Ironman 70.3 Barcelona Calella - Part 3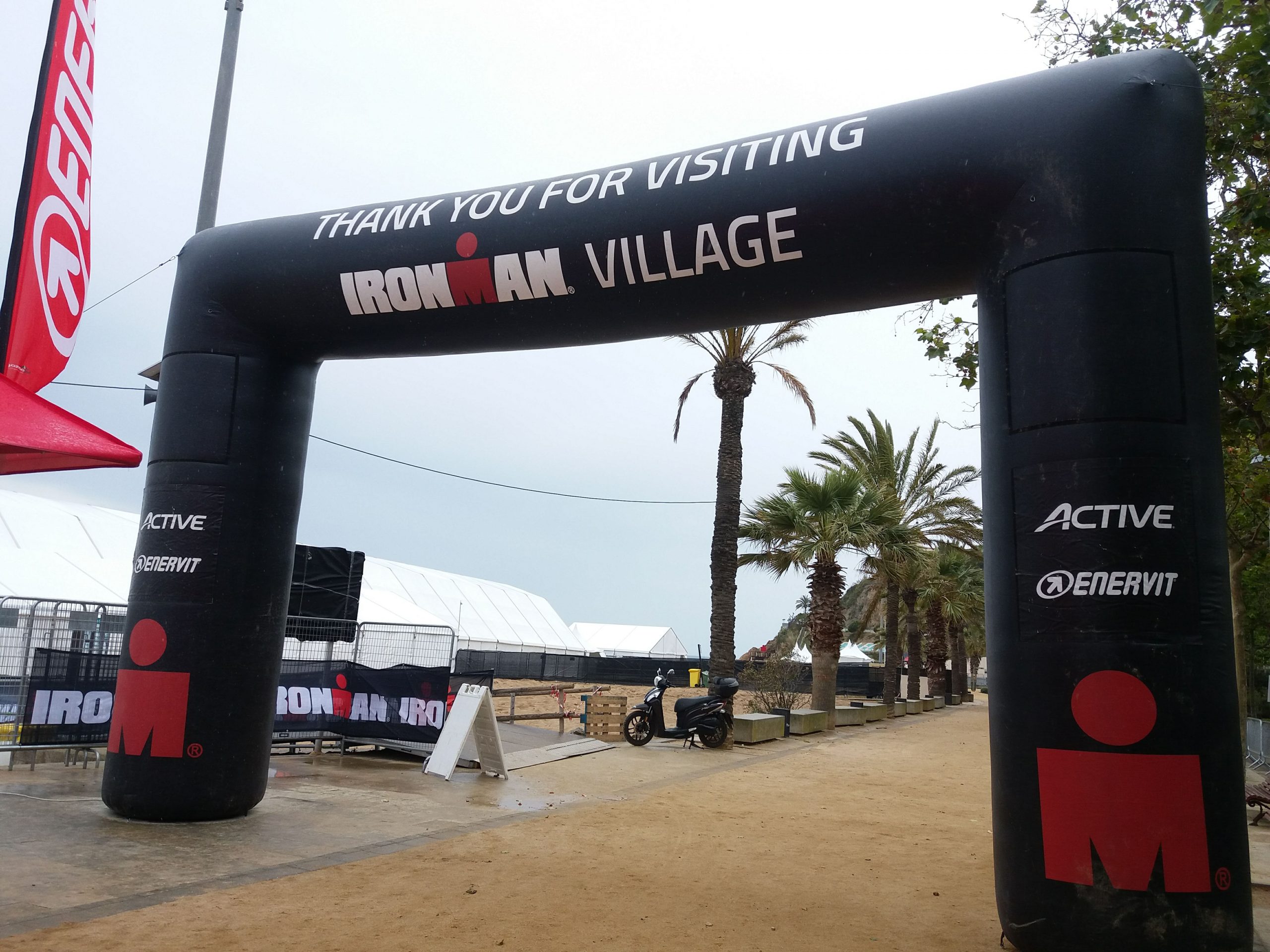 On Friday afternoon I took my bike from the bike shop and brought it to the apartment to store it in my room.
Saturday, again I woke up not that late and was waiting for my time slot to store the bike at the transition area. Visited the Ironman village and store again. Bought small souvenirs, like an Ironman magnet and new Roka swimming glasses. In the water, compared to my old ones, they felt like Nite Owls glasses (from watchmen). Then I strolled through the town. Bought some coconut water and hats from an embroidery shop. In the end all the writings on the hats had a mistake &#x1F926
I remembered that at the race briefing they told us about the temperature difference on the hilly part of the race and it could be much colder due to altitude. Unfortunately I was not prepared for tha. I learned quickly that there are arm warmers for cyclists, which of course I did not have. Improvised and bought some long football sock from the local sport store. Cut the toe section open and made me a couple of armwarmers. Also bought a long sleeve jersey from a store that looked very sketchy, the jersey was very poorly made and after test wearing it for half an hour it felt very uncomfortable so I got back and tried to change it to a black hoodie. After some arguing with the seller he agreed and I got my hoodie.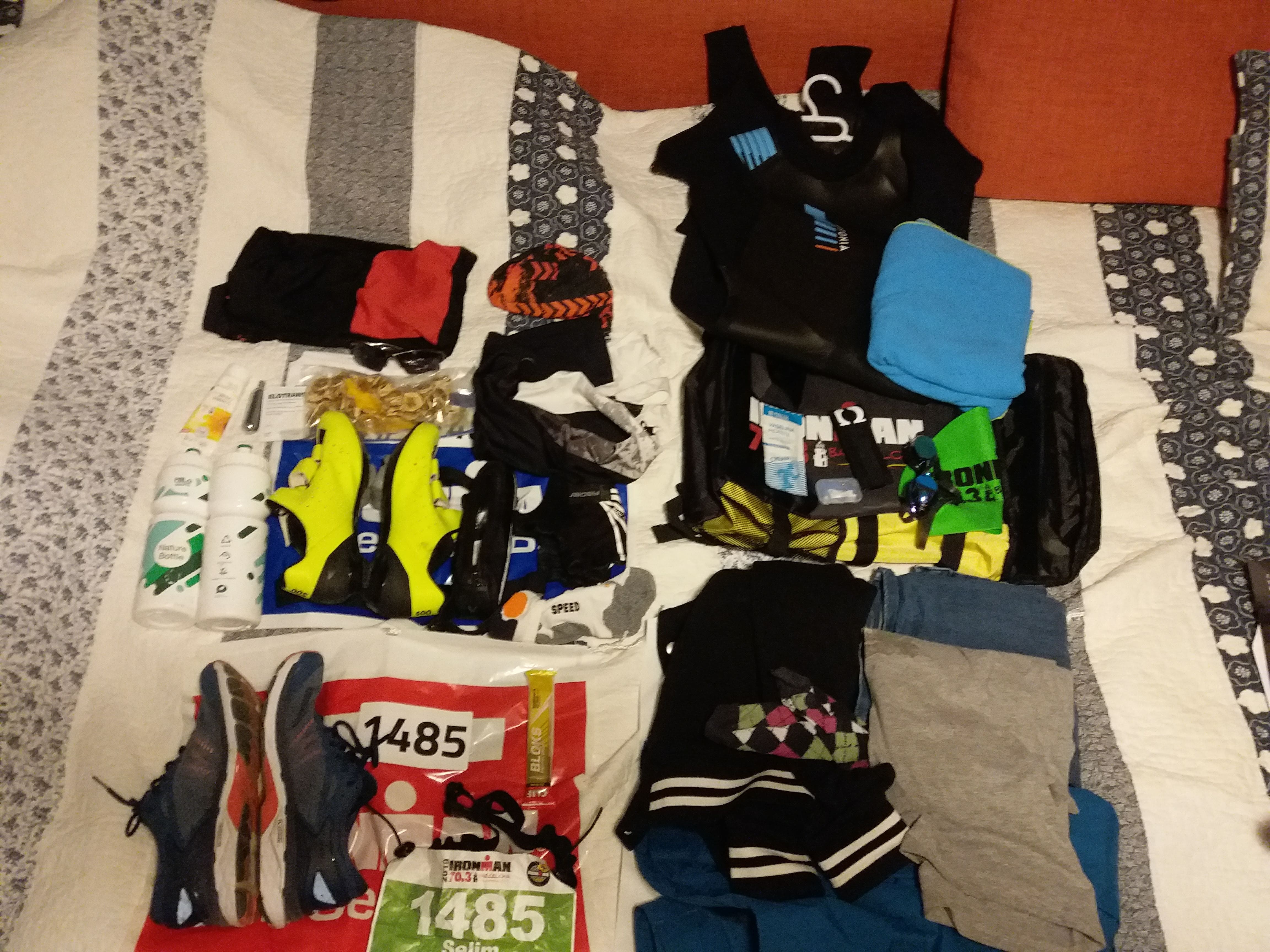 Finally it was my time to leave the bike to the transition area; was seeing for the first time the inside of a transition area with all the other bikes and was pretty excited about that. Checked out the bikes of the elites as they were separately stored and covered in foil to protect them from the rain.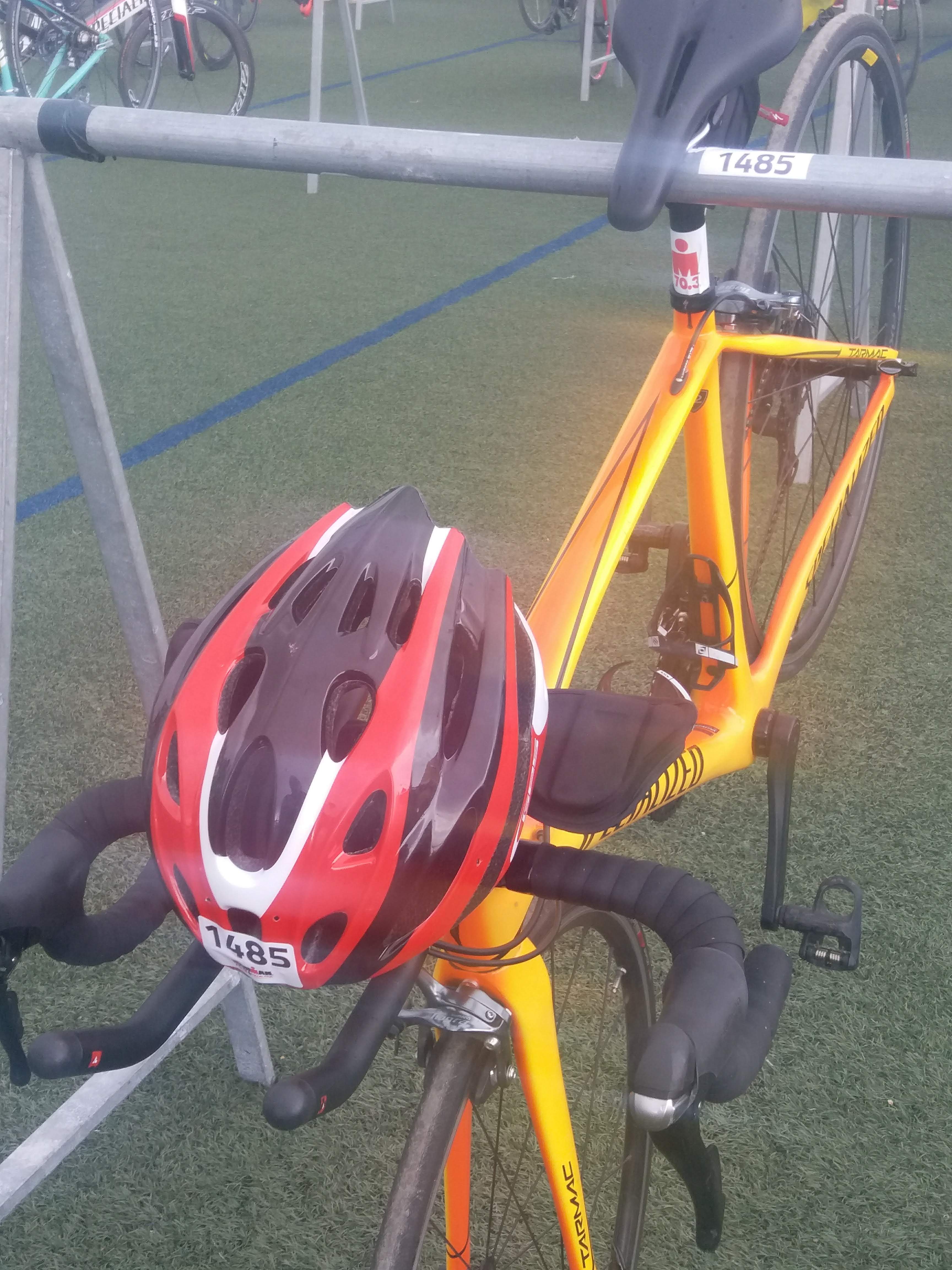 I could still see the perfectly taped energy gels on some of them. Finally hanged my transition bags to their respective places and left the area with my timing chip on my ankle.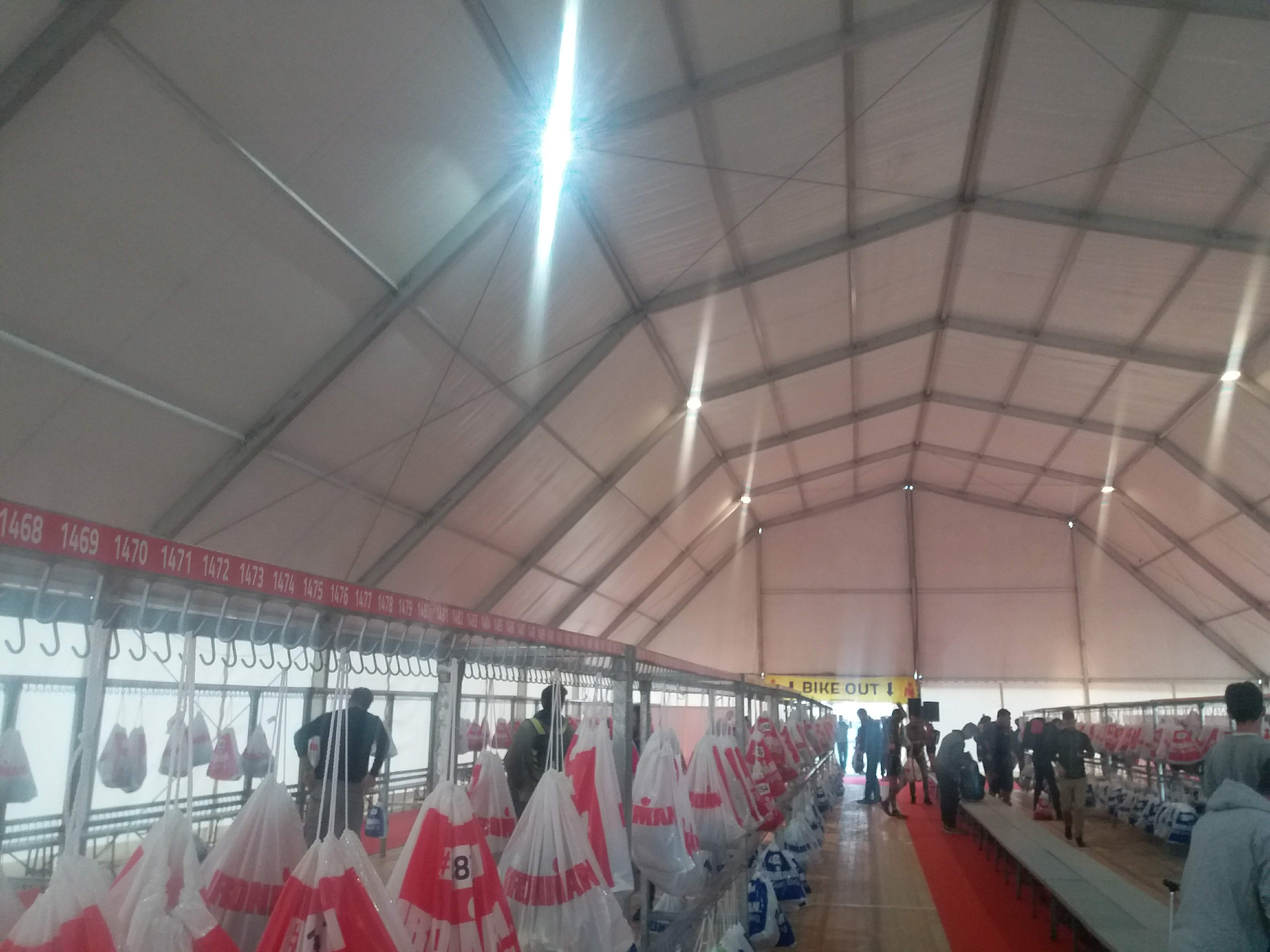 Bought some more groceries from the local supermarket and went to my apartment to cook, eat and call it a day as early as possible as the race was starting at 8am and I was planning to be there around 7am to be safe, so had to wake up around 6:30am.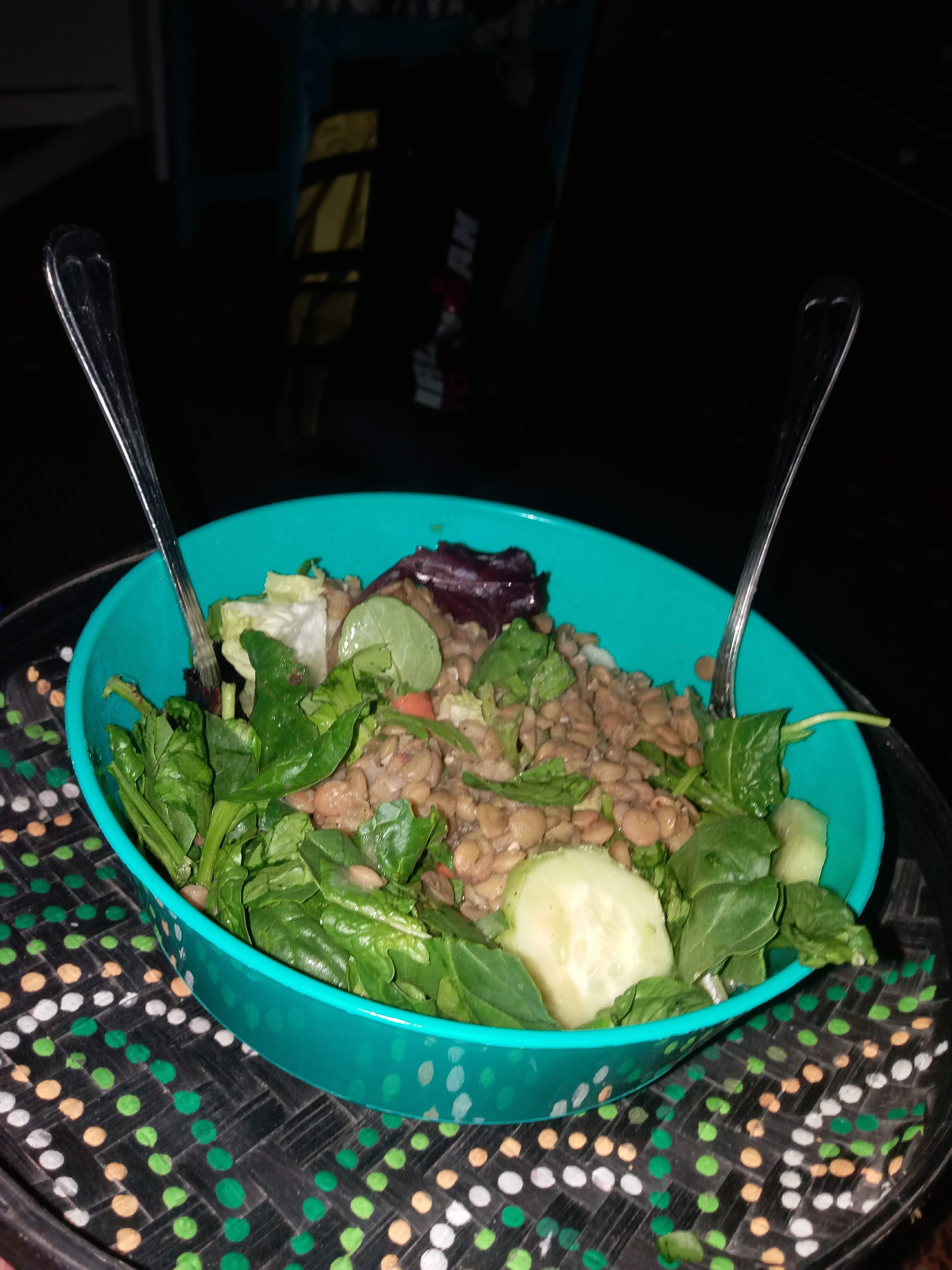 Of course I was not able to sleep for a couple of hours due to excitement, layed down and imagined the race, meditated and eventually fell asleep.
Sunday, raceday. Woke up, put on my swimsuit and my afterrace clothes, got my water bottles and nutrition bag (nuts and dried fruits) and started a fast walk to the transition area and start of the race.
After putting everything onto the bike and my street clothes in the white bag I was ready for the race. Some athletes were doing the swim warmup, skipped that and made my way to the start line where the racing crowd was gathering.
Finally they started to play some cool hardrock music to pump us up. I was feeling very excited and also a little afraid that the excitement would burn a lot of my liver sugar and I would bonk very early. Even with my empty stomach nothing like that happened.
3…2…1 The race started and the elites sprinted into the water and took off like jet skies. Then it was our turn. I think I was in the 50-60 minute group (total swimming time of 1900m). Finally got into the water and felt really cold but forgot about that very quickly because of my excitement and swimming dynamic in the crowded sea. We were like a fish swarm, felt like almost everyone was either swimming above or under me. I think I even got hit by an elbow at one point. My swimming had improved a lot and was definitely faster than the 60 minute group, so I was overtaking a lot of people during the swim. At the end my swim time was around 39 minutes.